Trustee Election
These are the original issues in this subcategory
FAIR & FLAT TAX
MARRIAGE PENALTY TAX
UPPER INCOME TAX RATES
Winning Issue » UPPER INCOME TAX RATES
Many people believe our nation's growing income inequality and our diminishing middle class are fundamental problems facing our society. For the past 30 years or more, America's per capita Gross Domestic Product (GDP) has steadily grown because American Labor has increasingly produced more goods and services with the same number of workers. However, our workers have not been rewarded for this increased productivity. In 2001, wages accounted for about 49% of GDP but this number is now about 43% following a steep and steady slide. The wealthiest among us, those making more than $400,000 a year, have captured nearly all the economic gains during these past three decades. Unable to share in our nation's prosperity, many Americans are having a harder and harder time buying the products and services produced by our consumption-based economy. Many believe this situation has led to a protracted recession and the demise of many middle class households.
Critics cite examples of how our wealthy have "gamed" the system in their favor. After taxpayers bailed out the corporations that caused our Great Recession, financial institutions shirked their responsibility to help troubled borrowers – most even further harming many homeowners long after the crash; our CEOs are paid much more than those of other nations, but they pay their average worker 373 times less than what they themselves receive; guilds restrict entry into their professions which create shortages that prop up member's compensation, but increase costs to those in need of their services; reductions in capital gains taxes benefit the wealthy but shift the tax burden onto those less able to pay; many consumer necessities such as gasoline, food, prescription drugs, college tuitions and other consumer markets are now served by suppliers who inflate prices by cooperating rather than competing with each other; many of our wealthiest individuals and our largest and most profitable corporations now pay little or no income tax. Critics say our wealthy and their lobbyists have rigged our markets and skewed tax policy at a cost to those less powerful. Many say wealthy individuals and corporations, many of which alone greatly benefited from the past 15 years and much longer, need to step up and assume a larger share of paying America's bills.
Income tax brackets for individuals also apply to corporations. Although allowed more deductions, a corporation's gross income is subject to the same federal tax rates as individuals. During President Eisenhower's administration, the marginal tax rate for Americans in the top income tax bracket was 92% - meaning the wealthiest Americans paid the IRS 92 cents of every dollar they earned. Under Carter the upper tax rate was cut to 70%. Clinton slashed it to 39.6%, which is where it is today after Bush's cuts were reversed by Obama. Currently, the upper income tax bracket is reserved for those with annual incomes in excess of $400,000.
Pending Legislation:
S.161 - Paying a Fair Share Act of 2015
Tweet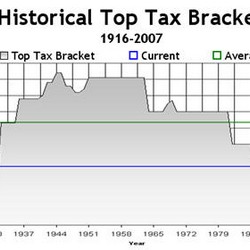 Options
I oppose reforming current upper income tax rate policy and wish to defeat S.161 - Paying a Fair Share Act of 2015, and also wish to donate resources to the campaign committee of either Rep. Paul Ryan or Sen. Mitch McConnell
I support ensuring that multi-million dollar earners pay at least a 30% effective federal income tax rate by: requiring an individual taxpayer whose adjusted gross income exceeds $1 million to pay a minimum tax rate of 30% of the excess of the taxpayer's adjusted gross income over the taxpayer's modified charitable contribution deduction for the taxable year; providing for a phase-in of such tax; requiring an inflation adjustment to the $1 million income threshold for taxable years beginning after 2016; expressing the sense of the Senate that Congress should enact tax reform that repeals unfair and unnecessary tax loopholes and expenditures, simplifies the tax system, and makes sure that the wealthiest taxpayers pay a fair share of taxes, and wish to pass S.161 - Paying a Fair Share Act of 2015, and also wish to donate resources to either the campaign committees of Sen. Orrin Hatch (UT) and/or Sen. Sheldon Whitehorse (RI), or to an advocate group currently working with this issue
Winning Option
I support ensuring that multi-million dollar earners pay at least a 30% effective federal income tax rate by: requiring an individual taxpayer whose adjusted gross income exceeds $1 million to pay a minimum tax rate of 30% of the excess of the taxpayer's adjusted gross income over the taxpayer's modified charitable contribution deduction for the taxable year; providing for a phase-in of such tax; requiring an inflation adjustment to the $1 million income threshold for taxable years beginning after 2016; expressing the sense of the Senate that Congress should enact tax reform that repeals unfair and unnecessary tax loopholes and expenditures, simplifies the tax system, and makes sure that the wealthiest taxpayers pay a fair share of taxes, and wish to pass S.161 - Paying a Fair Share Act of 2015, and also wish to donate resources to either the campaign committees of Sen. Orrin Hatch (UT) and/or Sen. Sheldon Whitehorse (RI), or to an advocate group currently working with this issue
There has been $0.00 pledged in support of this issue
Trustee Candidates
Trustee Election - Opening Date
April 9, 2020
Trustee Election - Closing Date
April 15, 2020