Pledging
These are the original issues in this subcategory
HIGHER EDUCATION AFFORDABILITY
FEDERAL STUDENT LOANS
EARLY CHILDHOOD EDUCATION
Winning Issue » HIGHER EDUCATION AFFORDABILITY
State budget cuts to higher education along with rapidly rising college tuitions have greatly reduced the opportunity for many Americans to earn a degree. The average cost of tuition and fees at state-sponsored four-year colleges is now 50% higher than it was only 10 years ago. The average cost for a resident student attending a four-year public university today is about $17,000 a year – and over twice this amount for a private school. Over the past 35 years, tuition costs have increased 1,100%. The typical debt for those with a student loan is now about $35,000. Many millennials say student debt prevents them from obtaining items needed for adult life. Colleges and universities receive much of their revenue from federal student grants and loans. Year after year, it is common for these institutions to enact tuition increases that dwarf the inflation rate.
Critics blame universities for skyrocketing tuitions by not controlling costs and wasting money on unnecessary expenses, sports teams, glamorous research programs, and excessive administrator compensation. Recently, the Federal Reserve Bank issued a report that blamed the rapid rise in college tuition on the increase in federal student loans and grants which has made more dollars available to schools. The Fed states that many of these institutions took this opportunity to unnecessarily increase the cost of obtaining a degree. The Fed discovered that for every dollar awarded in student grants and loans, tuition goes up about 60 cents. In the past, student advocates have said cost containment and increased tuition assistance are the only ways to keep college accessible to all Americans. It now appears that measures to contain the apparent greed of many school administrators should also be added to this list.
Higher education critics also say today's higher education system is not meeting our nation's needs because the proportion of young adults with two or four-year degrees is still the same (39%) as it was 30 years ago. They say we need to increase this proportion to 55% by 2020 if we are to stay globally competitive.
Pending Legislation:
H.R.747 - Proprietary Education Oversight Coordination Improvement Act
Tweet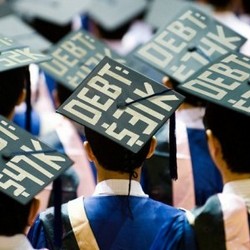 Polling Options
I oppose reforming current higher education affordability policy and wish to defeat H.R.747 - Proprietary Education Oversight Coordination Improvement Act, and also wish to donate resources to the campaign committee of either Rep. Paul Ryan or Sen. Mitch McConnell
I support sponsoring a bill prohibiting federal and student aid to institutions of higher education where tuition increases exceed the rate of inflation, and wish to donate resources to the campaign committee of Sen. Joe Manchin III (WV) or to an advocate group currently working with this issue
I support coordinating federal oversight of proprietary institutions of higher education (IHEs); coordinating federal activities to protect students from unfair, deceptive, abusive, unethical, fraudulent, or predatory practices, policies, or procedures of proprietary IHEs; increasing coordination and cooperation between federal and state agencies to improve oversight and accountability of IHEs; publishing the For-Profit College Warning List for Parents and Students, which is to be comprised of proprietary IHEs that: (1) have engaged in illegal activity during the previous academic year as determined by a federal or state court, (2) have entered into a settlement resulting in a monetary payment; (3) have had any higher education program withdrawn or suspended; (4) for which the Committee has sufficient evidence of widespread or systemic unfair, deceptive, abusive, unethical, fraudulent, or predatory practices, policies, or procedures that threaten the academic success, financial security, or general best interest of students, and wish to pass H.R.747 - Proprietary Education Oversight Coordination Improvement Act, and also wish to donate resources to either the campaign committees of Rep. John Kline (MN) and/or Rep. Elijah Cummings (MD), or to an advocate group currently working with this issue
Winning Option
I support sponsoring a bill prohibiting federal and student aid to institutions of higher education where tuition increases exceed the rate of inflation, and wish to donate resources to the campaign committee of Sen. Joe Manchin III (WV) or to an advocate group currently working with this issue
You May Pledge Your Support For This Issue With A Monetary
Donation And By Writing A Letter To Your Representatives
Please login to pledge
Pledge Period - Opening Date
February 20, 2020
Pledge Period - Closing Date
March 4, 2020
Trustee Election - Begins
February 27, 2020
Suggest a Trustee for this Presentation Cycle
Suggest a worthy trustee for consideration before Day 16 of this presentation cycle. (Maximum 60 Characters)